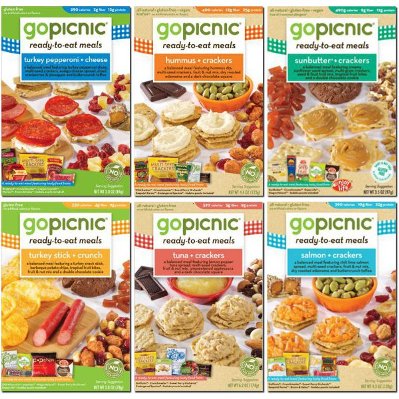 A few weeks ago, I ran into Target and stumbled upon GoPicnic's ready-to-eat meals and I was SO excited! Having food allergies typically means you have to prepare everything ahead of time. For us, this means I think about every meal and every snack every single day. It also means, if you are on the run and forget a meal then you are up a creek.
Several times, I have found myself having to drive all the way back home to make my son something to eat then hit the road again. This product changes everything! GoPicnic offers several different ready-to-eat meals and please note, not all are allergy friendly. In fact, my son can only have one of the meals but I am thrilled with that!
These meals are $4.99 each at my local Target but you can also order them online at GoPicnic.com. The Sunbutter meal we love includes the following:
Sunbutter® Sunflowerseed Spread
Crunchmaster Multi-Grain Crackers
Enjoy Life Seed & Fruit Trail Mix
Niagara Natural Tropical Fruit Bites
Enjoy Life Double Chocolate Cookie
For us, this is a great option for a meal on the go! Check them out at your local store and see if any of the meals can fit into your diet. The next time you are heading out to a soccer game, you can grab a quick meal on the run!
Disclosure: GoPicnic did provide two ready to meals for my family to try. Visit GoPicnic.com for more information or to order your meals!