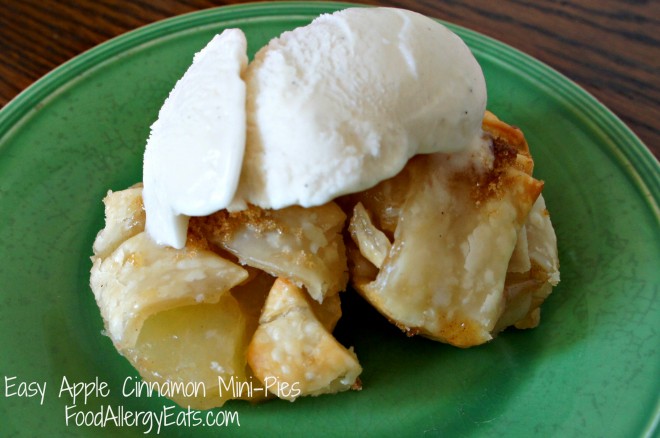 I had to add the word "easy" to the title simply to excuse what you are about to read.
I had it in me to be overly complicated and all Pioneer Woman-like by making my own pie crust from scratch, picking apples from my imaginary apple tree and cooking some sort of amazing pie like you have never seen before all while I made my own homemade dairy free ice cream. That was the plan.
Then, reality kicked in.
My homemade pie crust stunk. As in, it ain't workin' folks. Luckily, the Pillsbury pie crust that was conveniently located inside of my refrigerator (for emergency purposes only) contains only wheat as far as allergies go so it's a safe choice for us.
I went for it. I went for the refrigerated Pillsbury pie crust. In the event you'd like to make your own, be my guest. You can try it with recipes like this one. 
Since I was throwing out the "make from scratch" plan, I went ahead and grabbed a can of apple pie filling that was safe for our diets. No judgment  please.
At the end of the day, you're basically dressing up a typical apple pie but hey, it's safe and it's good. Can't beat that.
You're going to start by sprinkling a combination of cinnamon and light brown sugar all over the crust.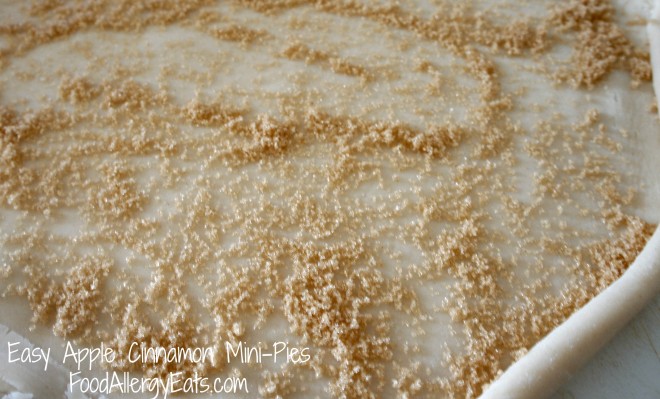 Once the pie crust is covered with sugary goodness, you'll slice it up into strips and criss cross those strips in a muffin tin.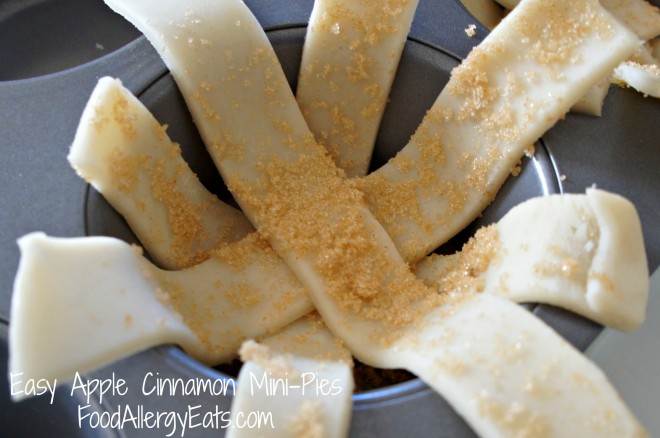 Once you have criss crossed your pie crust, simply add the pie filling. Of course, you can choose whatever pie filling you'd like that works for you. And, if you're "that" person, you can make your own.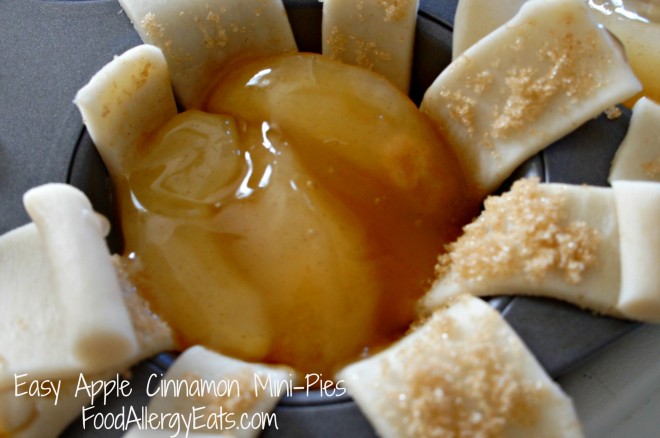 It's looking pretty good, right? Now simply cover the filling with your pie crusts and bake. You can bake these in mason jars if you'd like. I didn't think about that until this was done, either way works just fine.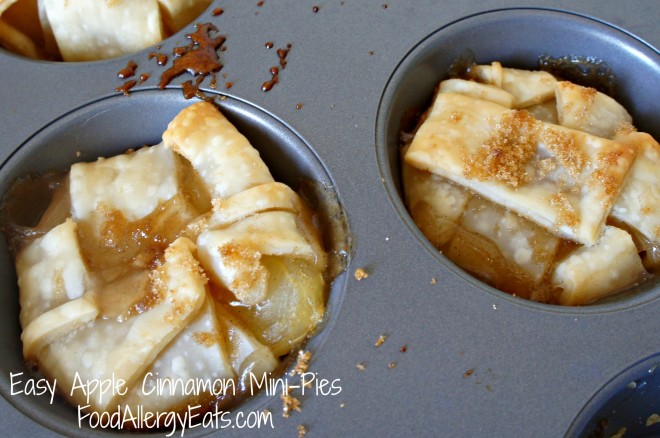 I'm not real sure how so much brown sugar got all over the pan, I did try to sprinkle the pies with brown sugar and cinnamon before I put them in the oven.
Cinnamon apple pie goodness. Yum.
I used a "safe" vanilla ice cream for a topping. This one in particular was made from coconut milk. I had not used that brand before but I'm pretty sure I just ate suntan lotion. I think I'll stick with Rice Dream.
[amd-zlrecipe-recipe:39]