Find out how you can eat allergy friendly food at Lulu's Restaurant, a great choice for those looking for dining options.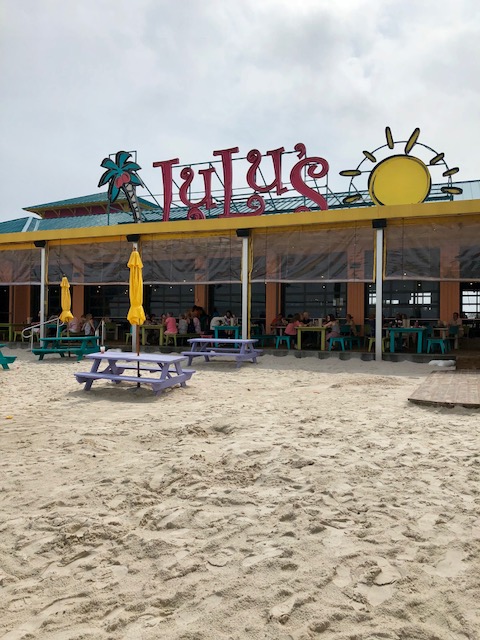 Have you given up on eating out all together with food allergies? For my son, we still do not let him eat at restaurants (that is, until LuLu's Restaurant). Did you know LuLu's is owned by Jimmy Buffet's sister, Lucy and is located in Myrtle Beach, Alabama and Florida? Yep. And, these just happen to be our favorite vacation destinations!
We actually went to a Jimmy Buffet concert recently and let me tell you, you've never seen crazy until you've been to one of his shows! I was blown away, everyone was amazingly sweet and kind but my goodness they do know how to have fun.
Back to the restaurant, my son's food allergies keep him from eating out at restaurants altogether, the risk of cross contamination is just too high. I found out recently, however, LuLu's Restaurant has a dedicated kitchen to help prevent cross-contamination of gluten (this is great since I am celiac). I figured if they were preventing gluten then maybe they could prevent other things as well?
The main thing to realize is, it's all a risk and you have to be very thorough before you take it especially when we're talking about a child. I asked as many questions as possible and spoke to a manger as well. Finally, we felt safe enough to try out the grilled chicken. Let me just say, if you ever get a chance to eat at LuLu's be sure to do it! This is one of the best restaurants for food allergies I have ever seen (outside of some Disney restaurants).
When you tell them you have a food allergy, the manager comes to speak with you personally. He/she will go over your allergy as well as your options. Again, it's all in your hands-it's not without risk, but you can decide if it is worth it or not.
Where is Lulu's Restaurant?
Lulu's is in the Buffett family of establishments all of which are amazing complete with a bar area, beach area and games, entertainment and more. Overall, it's a great restaurant worth stopping in just for the vibe and the gift shop! The fact that they go out of their way with food allergies just puts it over the top in my book.
They have 3 locations in Florida, Alabama and North Carolina.
Is It Worth the Trip?
Yes. I have eaten at all of their locations however, the one pictured above is in Destin, Florida. Head over to their website to find all of their locations. I'm the type that does actually plan vacations around finding a place my son can eat or grab something special-we've been to NYC and Orlando in search of allergy friendly doughnuts and I'm determined to find the best allergy friendly places to eat. If you have any favorites, feel free to share!