Don't you just love no baked cookies? They are THE best and just because you have food allergies does not mean you can't have them-check out this recipe for Sunbutter No Bake Cookies!


It dawned on me as I was making other recipes that I had enough ingredients to make No Bake Cookies, my favorite in the cookie family. I can still remember the taste of the No Bake Cookies in the lunchroom at school-yep, that's a throw back! I just loved them. This recipe is very simple to change up and substitute, you'll love the allergy friendly "Sunbutter" version.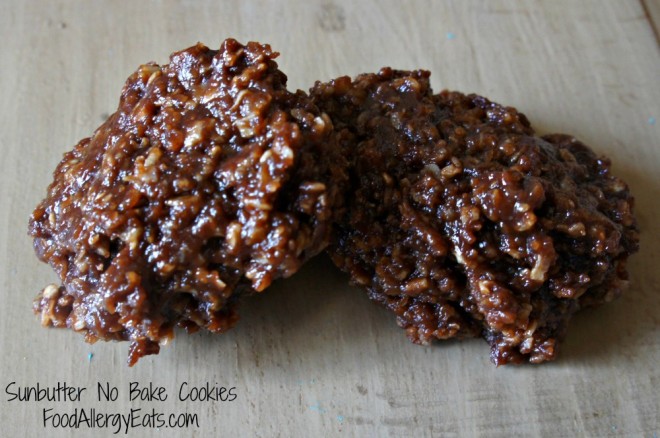 If you haven't tried Sunbutter, well, it will take a minute to get used to it but once you do-it's game on. I use it in any recipe that calls for peanut butter and it works perfectly.
Hope you enjoy!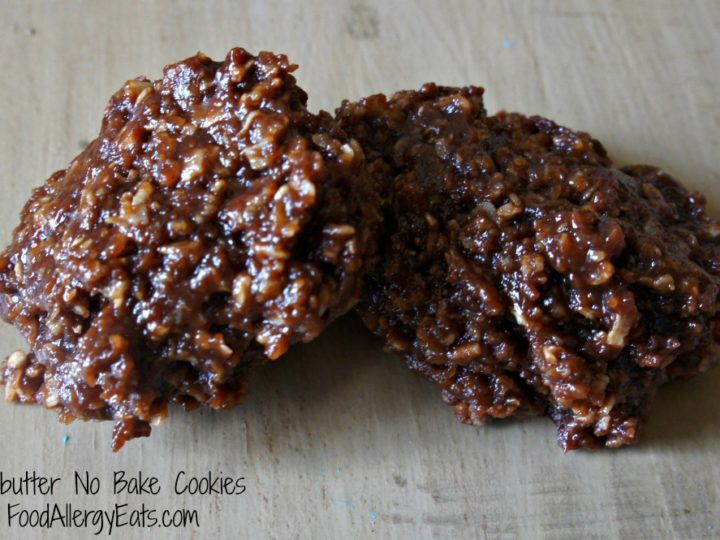 Yield:

24-30
Allergy Friendly Sunbutter No Bake Cookies
Have you been missing out on No Bake Cookies? These Sunbutter No Bake Cookies will rock your world!
Ingredients
1/2 cup Earth Balance Butter (or alternative)
2 cups Sugar (could also use Swerve)
1/2 cup Rice Milk
1/4-1/2 cup unsweetened cocoa powder (depending on what you like)
3/4 cup Creamy (not natural) Sunbutter
1 teaspoon Vanilla Extract
3 Cups "Safe" Oats OR Rice Krispie Cereal
Instructions
Line two baking sheets with parchment paper and set aside. Gather a large saucepan.
In the saucepan, place butter, sugar, milk and cocoa powder. Place on medium heat and stir to melt together.
Add in Sunbutter and continue to stir until pliable.
Take off heat and mix in vanilla and oats (or Rice Krispie Cereal).
Drop by large spoonfuls onto the parchment paper and allow to cool (I throw them in the fridge).
Enjoy!