Ooey gooey Rice Krispie Treats are my favorite! Did you know you can make allergy friendly Rice Krispie Treats? Yep! And, today, we're going to do it!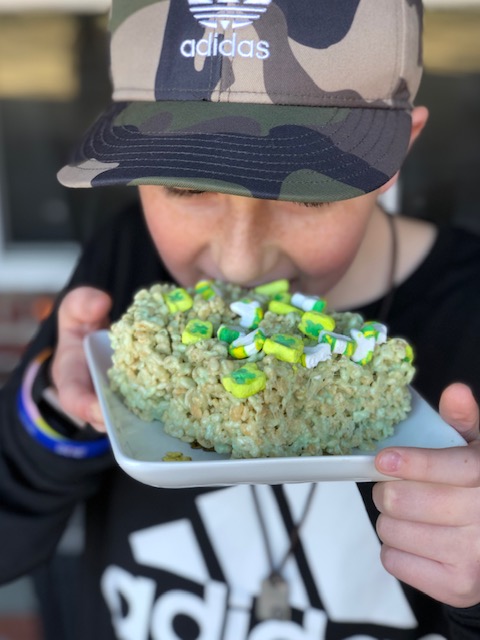 Making treats for St. Patrick's Day is always fun and today, I chose one of my favorites, Allergy Friendly Rice Krispie Treats. With just a little food coloring and some extra marshmallows, you can turn this easy to make treat into a festive class party treat or just something fun for the kids at home.
One of the main reasons I like to make Rice Krispie Treats at home is because I can control the size. You know those HUGE Rice Krispie Treats you see at the coffee shop? That's what I love to make-the bigger, the better! Just grab a smaller and deeper pan like these Wilton 8×8 Baking Dishes.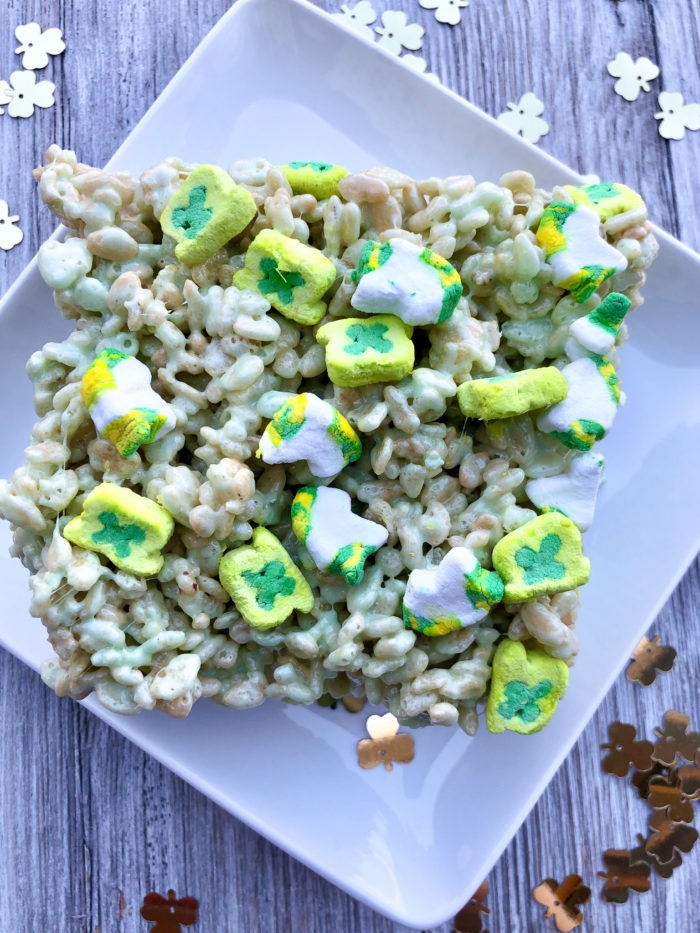 Want to add a little pizazz? I picked out the "lucky" charms in the Lucky Charms box. You can also cover these in green sprinkles too, the only reason why I didn't do that is because I didn't have any on hand. So, instead, my kids got green unicorns and clover covered hats. Not bad though, right?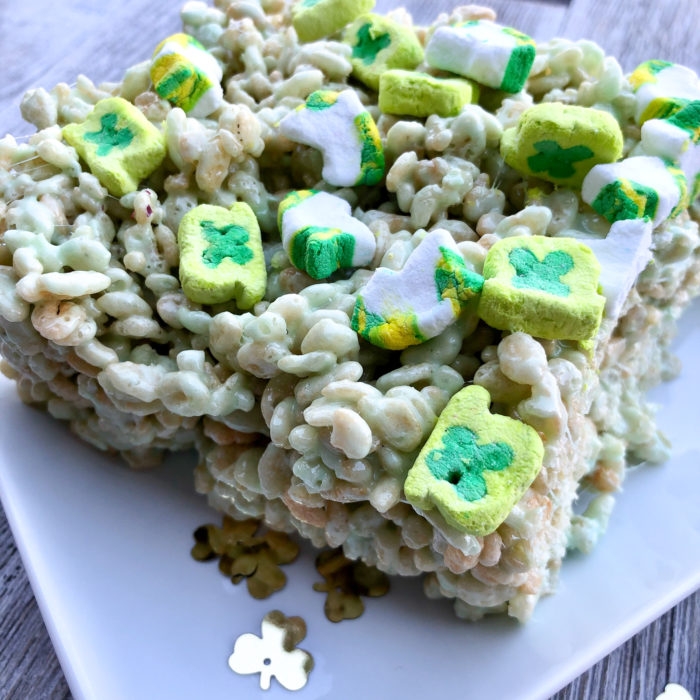 I told myself I was going completely sugar free then I got the idea for these and could not resist. They're full of sugar-full of it. But, if you're scheduling a "cheat day" then these are what you are looking for in a treat. The best part is the gooeyness of the marshmallows, there's a few tricks I'm going to share with you just for that so be sure to check out the recipe below.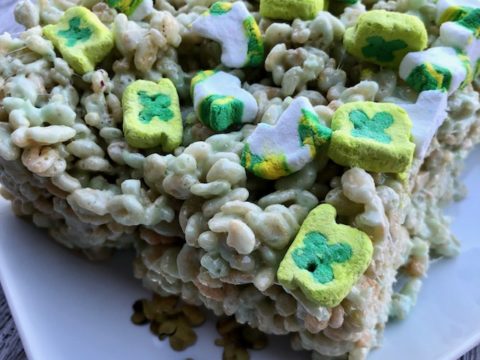 Yield:

8
Allergy Friendly Rice Krispie Treats
Supersize your Rice Krispie Treats with this allergy friendly recipe just in time for St. Patrick's Day!
Ingredients
11 cups Rice Krispie Cereal
3/4 cup Earth Balance Butter (or other safe butter)
2 bags Kraft Mini- Marshmallows
1 teaspoon Vanilla Extract
8 drops Green Food Coloring
"Lucky" Marshmallows or Green Sprinkles (optional)
Instructions
First, get all of your ingredients out in front of you as this recipe moves fast and you don't want to end up with burned marshmallows.
Using a very large mixing bowl, pour in 11 cups of Rice Krispie Cereal and set aside.
In a large saucepan or dutch oven, melt the butter and two bags of marshmallows on medium heat stirring constantly.
Once melted, add the vanilla and food coloring. Stir until well combined.
Once the mixture is smooth and everything is well combined, remove from heat and pour over the bowl of Rice Krispie Cereal.
Mix together by folding for several minutes until well combined.
Pour mixture into 8x8 baking dish gently. There is no need to compact it, it will all stick together and be nice and gooey if you simply pour it in and shape it with your fingers.
Chill in refrigerator at least 20-30 minutes if possible then eat.
Please remember, everyone has different allergies. Always read the labels and substitute ingredients that work for you. Also, you can change the coloring or the marshmallows as you like and these treats will fit any occasion. Enjoy!