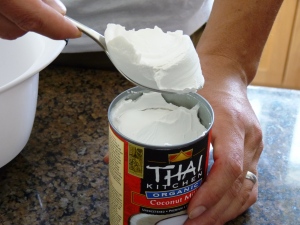 Photo Source: Nutty Kitchen
I stumbled onto this recipe for Whipped Cream using Chilled Coconut Milk on Pinterest, the recipe comes from Nutty Kitchen.
I thought this was such a creative idea, I just had to share!  I know some with food allergies cannot have coconut; however, for those that can have coconut have you tried this before?
I think I'm going to give it a try soon and will report back on how it worked out!  I think this may be the perfect topping for a pie!
Find more of my Food Allergy Eats pins on my Pinterest Board.
I hope you enjoy this treat and as always be sure to check all ingredients and eat what is safe for you and your family!