Make the best Vegan Salted Caramel Hot Chocolate! This Hot Chocolate pairs your favorite flavors without allergens.
I LOVE hot chocolate. As in, I probably have an unhealthy addiction to hot chocolate.
Starbucks sells the most unbelievable Salted Caramel Hot Chocolate on the planet. ON. THE. PLANET. It's beautiful, it's amazing and unfortunately, it contains milk.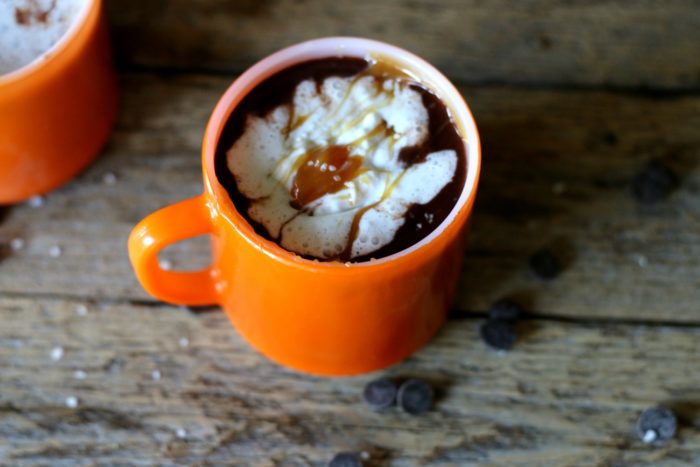 Milk and I do not get along nor do I get along with soy milk either so that's off the table. This led me to attempt to come up with my own version of this overpriced deliciousness.
How do you make Dairy-Free Caramel Sauce?
The first thing I did was make my own dairy-free caramel sauce. This is obviously a pretty important step in the process, if you can have store-bought, go for it.
For us, the make your own is the best we can do and it's pretty amazing too.
It only takes a few ingredients:
Earth Balance Butter
Full-Fat Coconut Milk
Brown Sugar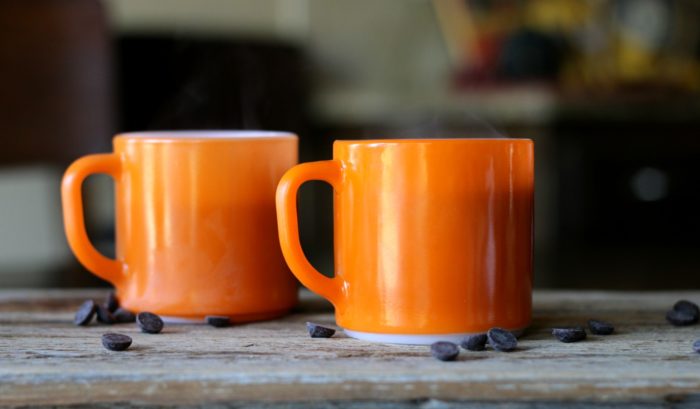 Next, it's time to make the hot chocolate.
This is a spin-off of the original Hershey's Hot Cocoa recipe found on the side of the cocoa container, we're just jazzing it up a bit.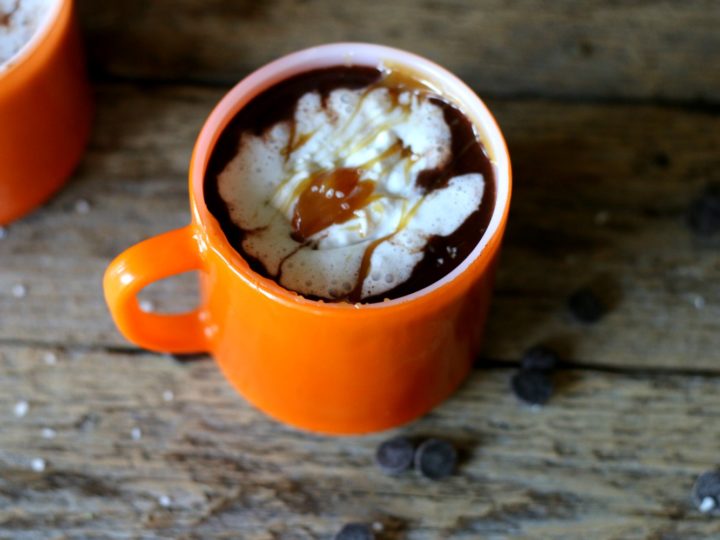 Yield:

4
Vegan Salted Caramel Hot Chocolate
Make a delicious Allergy-Friendly, Vegan Salted Caramel Hot Chocolate!
Ingredients
1/3 cup hot water
4 cups rice milk (any variety will work)
2 tbs homemade caramel sauce (+more for topping)
3/4 tsp vanilla
1/2 cup sugar
1/4 cup cocoa powder (I use Hershey's)
3/4 tsp vanilla
1 can full fat coconut milk (refrigerated upside down overnight)
1 tsp coarse sea salt
Instructions
Bring water, rice milk and caramel to a light boil. While you're waiting, mix together the sugar, cocoa powder.
Once the liquids are boiling, whisk in the sugar and cocoa powder.
Do not let this boil for long, maybe 2 minutes or less. Remove from heat and pour into cup.
Garnish with whipped coconut milk, a dash of homemade caramel sauce and sea salt.
Notes
Be careful with the coconut milk, while it tastes great, it's not all that good for the waistline. The coconut milk also melted pretty fast for me which is why it's not the pretty fluffy cream you usually see however, it still had the same great taste.