Your family will love this allergy friendly eggless meatloaf! It can be made full size or in a mini version perfect for the kids!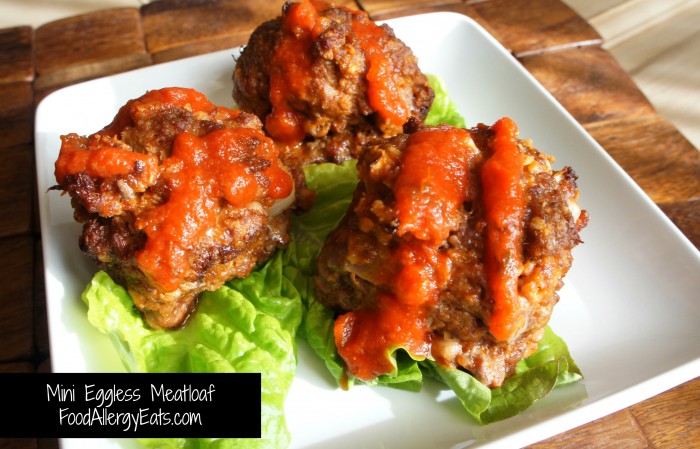 My mom made meatloaf quite a bit growing up and honestly, I really like it. If you've avoided meatloaf due to an egg allergy but, never fear, eggless meatloaf is here!
Yes, I just said that.
Here's the thing, you can make this in a normal loaf pan as usual or you can make it in these little mini pans that I just happen to have at my house. I like the mini version because it's just easier to eat and perfect for kids, it also seems less intimidating.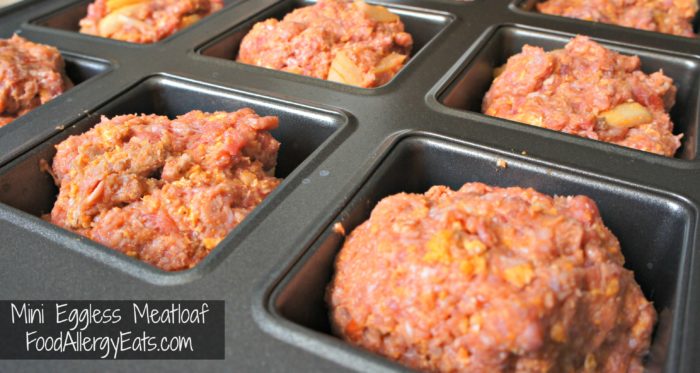 This pan is one I used to make Minecraft cakes for a birthday party but, as it turns out, it works for meatloaf too! Honestly, many of the ingredients can be substituted for your favorites.
The most important thing is to skip the eggs and while there are many available egg substitutions, I found applesauce actually did the trick.
If you cannot find gluten free breadcrumbs that work for you, you can always make your own using whatever "safe" bread works.
HOW TO MAKE ALLERGY FREE BREADCRUMBS
Simply use whatever bread you have on hand that is safe for your family. Using a food processor, grind the bread down to crumbs. Bake on a cookie sheet at 350 degrees for about 10-15 minutes depending on the size of your crumbs. You're looking for a nice toasted effect not burned bread.
Gluten free bread works perfectly for this, my son can actually have Wonder White Bread and it works great as well. Again, this recipe is very customizable, feel free to take down the ketchup a bit if it is too much for you. Most importantly, enjoy!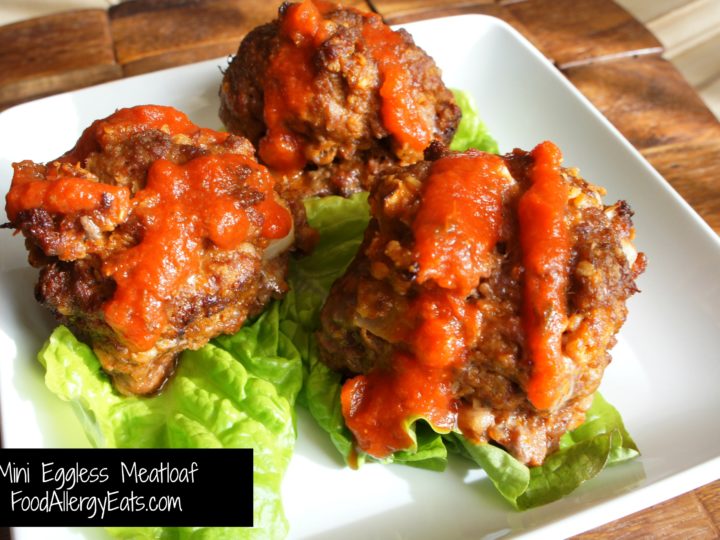 Allergy Friendly Eggless Meatloaf
Total Time:
1 hour
15 minutes
YOUR FAMILY WILL LOVE THIS ALLERGY FRIENDLY EGGLESS MEATLOAF! IT CAN BE MADE FULL SIZE OR IN A MINI VERSION PERFECT FOR THE KIDS!
Ingredients
Meatloaf:
1/2 cup Unsweetened Applesauce
2 cups Gluten Free Oats or "Safe Bread Crumbs"
3/4 cup Rice Milk
1/3 cup ketchup
1 teaspoon Salt
1/2 teaspoon Black Pepper
1/2 teaspoon Garlic Powder
1/2 cup Chopped Onion
1 1/2 - 2 pounds Ground Beef
Sauce:
2 cups Ketchup
1/2 cup Chopped Onion
1-2 teaspoons Liquid Smoke
2 tablespoons brown sugar
Instructions
Preheat oven to 350 degrees.
Combine all meatloaf ingredients in a large mixing bowl. Be sure to incorporate every ingredient using hands if necessary.
Pour into a loaf pan or a mini-loaf pan keeping in mind, the thicker the meatloaf, the longer it will need to cook.
Cook for 50 minutes.
In a small saucepan, mix together the sauce ingredients and bring to a light boil.
Remove meatloaf from oven, pour sauce over meatloaf and return to oven to cook an additional 10-15 minutes.
Cooked meatloaf temperature should be 165 degrees.