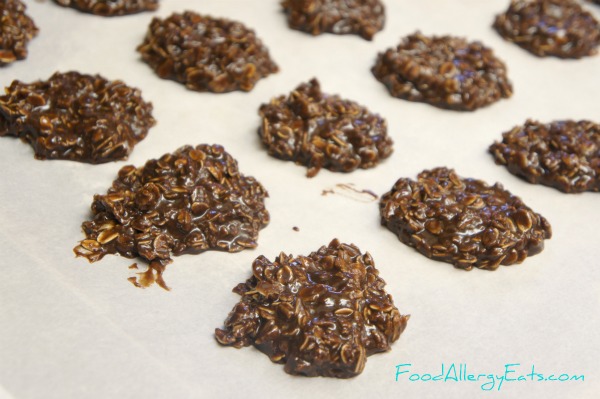 This past week, I decided to try to adapt the recipe for No Bake Cookies on All Recipes using Sunbutter.  Although, my son only has a lactose intolerance, we have not given him peanut butter yet.  I have many reasons why I haven't one obviously is because of my nephew's food allergies, I'm much more hesitant to try foods high on the allergy scale with my son.
Another reason, is that with my nephew's food allergies, Sunbutter and Peanut Butter look so similar I do not want my nephew to get confused and eat something that he thinks is Sunbutter and it's Peanut Butter.  So, I just steer clear of it all together at least for now.
Plus, I really enjoy Sunbutter and these cookies are loved by my entire family!  My husband literally ate at least 20 of them!
A few things to consider before making these is to decide if both Sunbutter and Oats are safe for your family, I know that for some this is not an option so be sure and use what is safe for you and your family.
[amd-zlrecipe-recipe:13]
Enjoy!