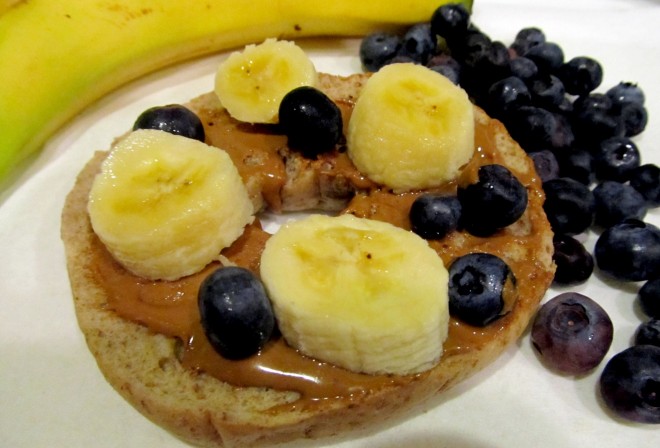 Sunbutter is a staple in our home. I do realize many are allergic to sunflower seeds so this product might not work for everyone but my boys can't get enough of it. I try to fit it in every single day for my oldest son.
For a great bagel recipe, check out Food Allergy Mama's Bakery Style Bagels. If you can't have wheat, you can substitute the flour with a gluten-free rice mixture such as:
3  cups  white rice flour
3  cups  tapioca starch
2  cups  arrowroot starch
1  cup  potato starch
This makes a whole batch of gluten-free baking mix that you can keep on hand. If you use that baking mix to make the bagels, just use the amount called for in the recipe and add 1 tsp Xantham Gum to the recipe.
I used this baking mix recipe for years until my son was finally able to have wheat again (only in the last year).  In the picture above, I used a Sara Lee bagel which did not contain tree nut, peanut, dairy or egg. But, again, you can make your own very easily…and they're YUMMY.
On the bagel, I added Sunbutter and fruit. Simple and pure awesomeness.
Disclaimer: Please be sure to check all the ingredients for your particular allergy needs.