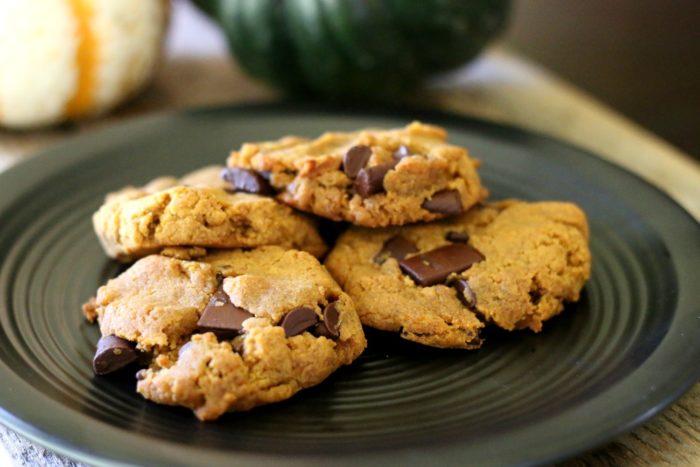 Pumpkin season is here! This is awesome…unless you have food allergies in which case it becomes a little difficult to recreate those awesome bakery items and PSL. But, never fear, I have a flipping delicious recipe for Pumpkin Spice Chocolate Chip Cookies that will make your heart sing!
I'm excited about these mostly because they came out tasting great and that was a little bit of a surprise to me. I wasn't sure, you never know when you go subbing out ingredients. These cookies make the entire house smell great but, I'll warn you. They will make you want to eat them all at one time. Yep, they'll force you. And if you give a mouse a pumpkin spice chocolate chip cookie…
INGREDIENTS:
1 can pumpkin
1 cup white sugar
1/4 cup brown sugar
1/2 cup canola oil
1/4 cup applesauce
1 tbs vanilla
1 tsp cinnamon
1 1/2 tsp pumpkin pie spice
2 tsp baking powder
1 tsp baking soda
1/2 tsp salt
2 cups allergy friendly flour such as King Arthur or Better Batter
1 1/2 cups Enjoy Life Foods Chocolate Chunks
DIRECTIONS:
Preheat the oven to 350 and line a cookie sheet with parchment paper.
Mix together pumpkin, sugars, oil, applesauce and vanilla in a bowl. Add to that mixture the cinnamon, pumpkin pie spice, baking powder, baking soda and salt. Mix lightly until blended. Then, fold in the chocolate chunks. We don't want them chopped up to bits so be sure to fold them in lightly by hand.
Using a spoon or your hands, create a ball of dough. Lay out on the cookie sheet and flatten a bit with a spoon, not too thin, you'll want chunky cookies. These will not move much so be sure to create them in the size you want.
Bake for 15-17 minutes then cool or chill in the refrigerator.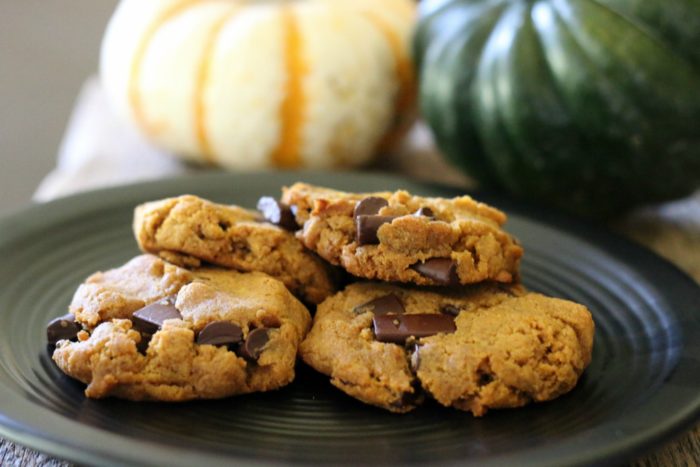 I think you'll love these, enjoy!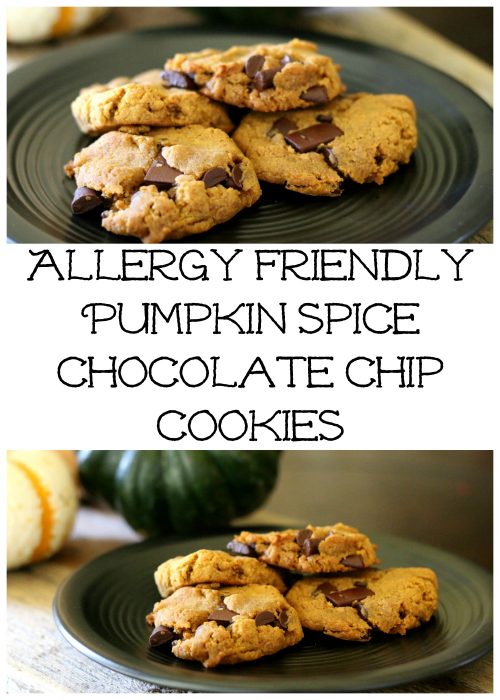 Adapted from Chelseasmessyapron.com.