Your family is about to flip out with these allergy friendly cake batter pancakes! Seriously, this takes breakfast to a whole new level!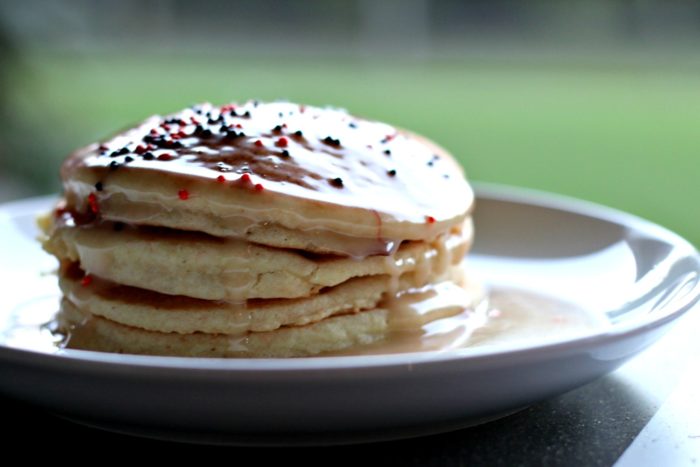 My son is obsessed with pancakes and waffles and I mean obsessed but even these cake batter pancakes were next level for us.
I usually use a basic recipe from The Food Allergy Mama's Baking Book, if you don't have this book, you need it. I have multiple copies and I have bought it for family members as well and it's stained with food from all my cooking experiments.
That being said, this weekend, my son asked for pancakes. I, on the other hand, have a sweet tooth and wanted to kick it up a notch. We've been working for days on our garage sale and I thought it was a good time to reward ourselves a bit. I've seen cake batter pancakes before but not an allergy friendly version.
I had to work on this one a bit, I was super worried it would come out wonky…as allergy friendly recipes do tend to do at times.
These pancakes however, came out AMAZING. It's a totally dessert, I mean, you're basically eating cake. But, who cares? Sometimes, you just need cake.
I made these pancakes free of the top 8, completely gluten free and they're delicious. Please remember to read ingredients on any box carefully as everyone has different allergies.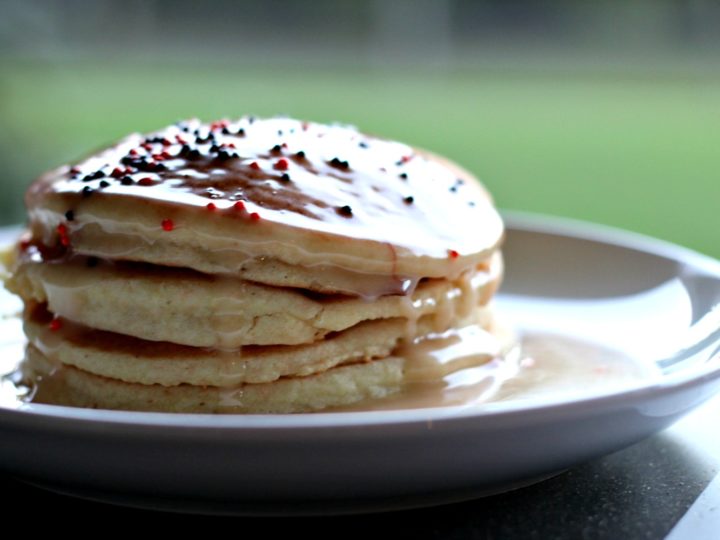 Allergy Friendly Cake Batter Pancakes
These allergy friendly cake batter pancakes will be a family favorite!
Ingredients
1 1/4 cups allergy friendly flour (I use Better Batter)
1 cup yellow cake mix (Again, I used Better Batter but there are plenty of allergy friendly alternatives)
1/2 cup applesauce (or enough egg replacer for 2 eggs)
1 tbs sugar
3/4 tsp baking powder
1 tsp vanilla extract
1 1/2 cups milk
pinch of salt
ICING:
1 cup powdered sugar
1-2 tbs rice milk
1/2 tsp vanilla
2 tbs melted allergy friendly butter (I use Earth Balance)
Instructions
1. Mix together the flour, cake mix, sugar and baking powder. In a separate bowl, mix together the applesauce, vanilla and milk. Combine together, pouring the wet mix into the dry and stirring gently.

We're trying to achieve the consistency of pancakes, if you need to, add a bit more water and a pinch of salt.

2. Pour out your mixture on a greased griddle or skillet. Use about 1/4 cup and watch for bubbles, once the bubbles pop, flip the pancakes. They should come out nice and thick and make your house smell like cake.

3. Top with glaze.


Recommended Products
As an Amazon Associate and member of other affiliate programs, I earn from qualifying purchases.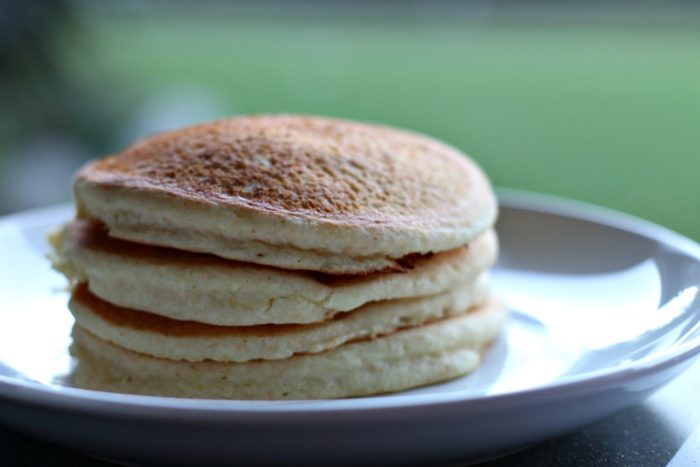 Once finished you can top with an optional glaze, it's very easy to make and well worth it. Simply combine all of the ingredients in a bowl and mix. You can add more or less milk depending on your personal taste. I use rice milk but if you can tolerate other milk or conventional milk then you can use that too.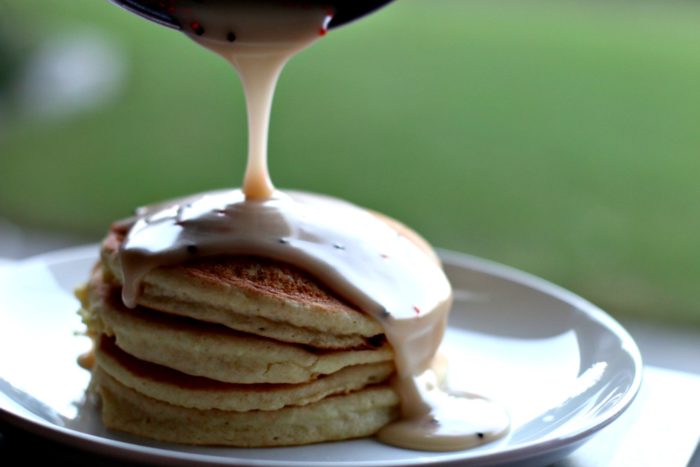 Honestly, this is one of those things I can only make every once in a great while because my tendency to eat all of them overpowers me. Put a candle on top and it's a birthday breakfast! For us, we went for Halloween sprinkles because my kids are counting down the days! Enjoy!