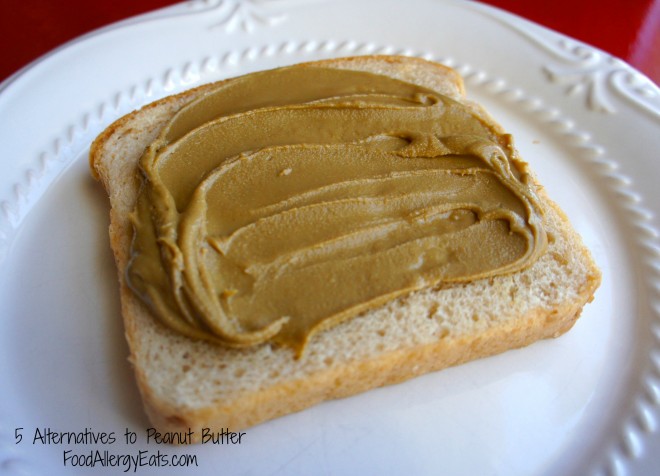 We are a no nuts family..food-wise, of course. It took awhile but after much trial and error, I finally found an alternative to peanut butter that we really like as a family. In saying that, there are many alternatives and I thought I would share some of my favorites with you just in case you're looking for a good one.
Some of these  work well as "peanut butter cookies" or just a plain PB&J type sandwich too if you'd like. Perfect for school lunches!
5 Alternatives to Peanut Butter
1. Sunbutter: It's our favorite. Yes, it does have a "sunflower seed" after taste mainly because it's made with sunflower seeds but we are used to it now and really enjoy it.
2. Wowbutter: I personally have not tried this but, they do offer samples so I'm signing up! This is a soy based butter that is supposed to taste "just like peanut butter" and that is very interesting to me. If you've tried it, let me know!
3. I.M. Healthy:  This is another soy nut butter alternative that many people love. Again, we're so used to the sunflower versions that it is hard for me to use soy. Plus, my son has minor reactions to soy as a baby and that just makes me nervous today but, I know many people who love this product so it's worth checking out.
4. Earth Balance Coconut Spread: Obviously, this is not a substitution in the real sense of the word but I have several friends who swear by this so I wanted to mention it. I'm going to work up the courage to try it and I'll let you know what I think.
5. The Sneaky Chef No-Nut Butter: It's made of peas. That's right, peas. It is actually made with golden peas that deliver more of a "nut" taste plus, it's healthy! Can't beat that!
These are great alternatives if you're looking for that peanut butter sandwich taste again plus, they taste great. Let me know which one you like the best!