Want a summer salsa to impress your whole family? Try this easy and delicious allergy friendly strawberry salsa!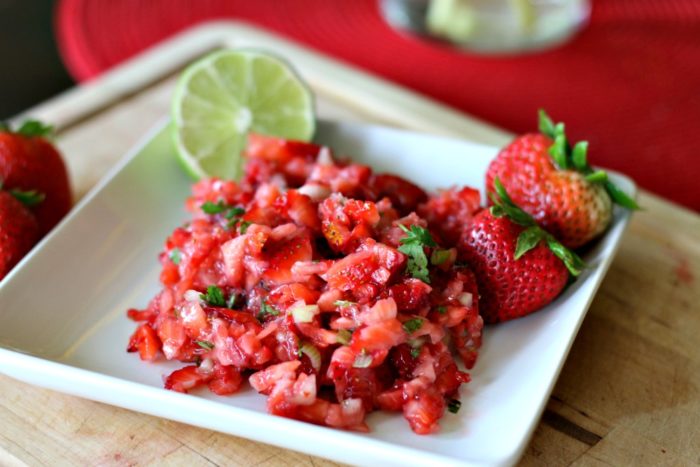 This week, I decided to experiment a little and put together an easy strawberry salsa your whole family will love. I'm not a huge "regular" salsa fan but a few years ago someone let me try mango salsa. It never occurred to me that I could make salsa with different fruits.
My mangoes were a little iffy, I decided to try out the strawberries instead. The best thing about this salsa is your kids will love it too. If the zing is a little much, you could always leave out the onions or substitute with something milder such as leeks (my fav).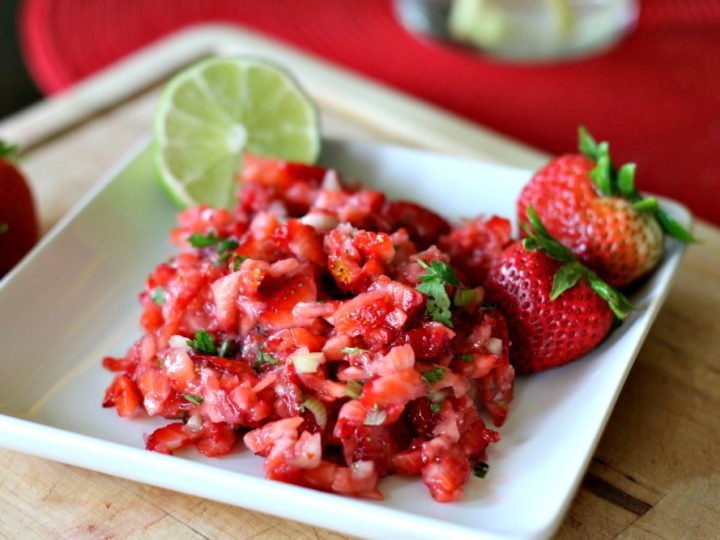 Easy & Delicious Strawberry Salsa
This Strawberry Salsa is sure to be a family favorite!
Ingredients
1 pound strawberries
3-4 green onions
Cilantro (to taste)
1 lime juice
jalapeno (optional)
Instructions
Slice and clean the strawberries and green onions.
In a food processor, pulse together strawberries, green onions and cilantro. Be careful not to blend.
Once processed, squeeze the lime juice over the mixture and add in the jalapeno if you'd like.
Serve with cinnamon chips!
Recommended Products
As an Amazon Associate and member of other affiliate programs, I earn from qualifying purchases.
This recipe calls for cilantro which is a total preference thing in my opinion. The flavor is so strong, I didn't use much but if you're used to it then by all means, throw it all in!
Also, if you're a little "extra" you can add in jalapeño. I couldn't do it. I can't handle it. My strawberry salsa tasted just like a dessert that could have been put in a pie BUT that's exactly how I like it!
Serve this up with some cinnamon chips and your family will just freak out! If you can have gluten then these cinnamon chips should be your go-to, if you can't have gluten well, it seems I need to figure out a way to make some gluten free version.
Also, you'll want to have a decent food processor. I personally love my Kitchen Aid processor but you can use something simple as well, it just needs to be processed and not simply cut with a knife. You'll thank me later. Enjoy!