Just in case you thought you couldn't eat marshmallows anymore or if you thought marshmallows couldn't get any better, introducing homemade allergy friendly marshmallows!
Hot chocolate is one of my favorite things. Favorite. Things. The second the temperature hits around 65 degrees, that's cold enough for me to grab the hot chocolate in the mornings. I also love marshmallows but homemade marshmallows are out of this world!
These homemade marshmallows are entirely customizable meaning, you can add whatever flavor and color you'd like in order to take your drink up a notch. The recipe is a bit intense, it does have quite a few steps and every single step matters, but once you do it-you got it!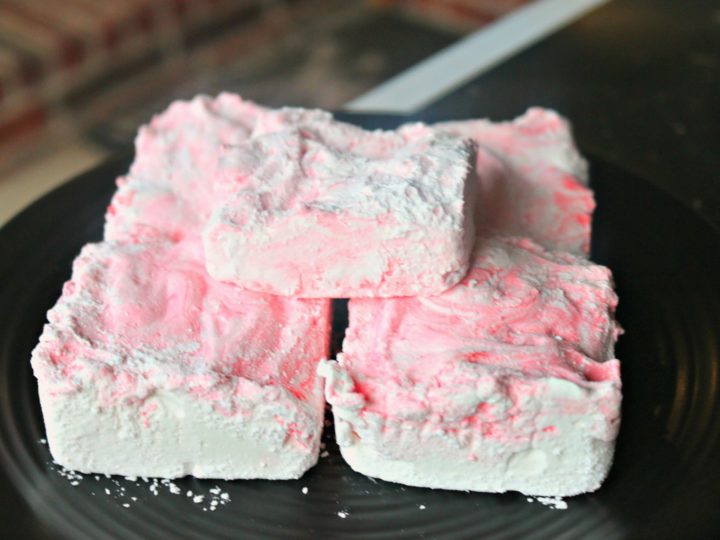 Allergy Friendly Homemade Peppermint Marshmallows
Just in case you thought marshmallows couldn't get any better, introducing Allergy Friendly Homemade Marshmallows!
Ingredients
1 cup confectioners sugar
1 cup cold water
2 cups white granulated sugar
1/2 cup light corn syrup
2 envelopes unflavored gelatin
2 teaspoons pure peppermint extract
red food coloring (optional)
Instructions
1. Coat a 9″ square baking pan with cooking spray and a small amount of confectioners sugar.

2. Microwave 1/2 cup cold water, granulated sugar and light corn syrup for 8 minutes. Stir making sure sugar is fully dissolved.

3. Microwave 2-3 minutes longer if necessary to dissolve sugar.

4. Lightly mix 1/2 cup water and 2 envelopes unflavored gelatin in a stand mixer. Let sit about 5 minutes.

5. Slowly add sugar mixture to the gelatin beating (beginning on low and increasing to high) until mixture turns white and begins to peak (about 15 minutes), add in peppermint extract.

6. Then, add mixture to the pan. Add food color to the top of the marshmallow mixture, swirl with a toothpick.

7. Cover with 1/3 cup confectioners sugar and refrigerate overnight.

8. Add remaining confectioners sugar to a bowl, cut and remove marshmallows from backing dish and coat all sides with confectioners sugar. Shake off the excess and serve in hot chocolate!
I actually used a square baking dish with mini-squares in side. It was a dish I bought when I made Minecraft characters for one of my kids' birthdays. Turns out, it's a pretty versatile dish and it worked perfectly for my extra large marshmallows.
I'm telling you, once you make these-you won't go back to Kraft!