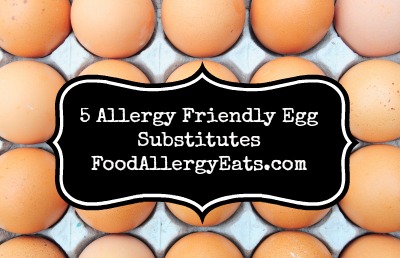 Finding the perfect substitution for eggs totally depends on what you're making. I do have my favorites but I have noticed major differences between them all. At times, the substitution could make or break your favorite dessert.
5 Allergy Friendly Egg Substitutes
1. Applesauce: This is my ALL TIME favorite. Simply sub 1/4 cup applesauce for every 1 egg. This is my go-to for most of my baking.
2. Ener-g Egg Replacer: This is such an interesting product and I always have it on hand. I've found some things just work better with it rather than the applesauce.
3. Flax Seeds: I'll admit, I have not brought myself to try this. But, I know many people who swear by it and use it regularly. You substitute 1 tbsp ground flax seeds plus 3 tbsp water for 1 egg.
4. Banana: You can sub 1/4 cup of pureed banana for 1 egg. This works well in breads and muffins of course, if you use too much you'll obviously be turning your recipe into a "banana" recipe.
5. Tofu: I am finally learning the many uses of tofu. You can slice it up and replace the egg in an egg salad, you can even scramble it. For recipes, you can whip 1/4 cup of tofu for 1 egg.
I know there are many more, these are just a few of the more common ones. What is your favorite egg substitute?