Allergy Friendly Oven Roasted Veggies are an easy side dish, perfect for an Easter celebration with the family! Even the kids will enjoy these yummy veggies!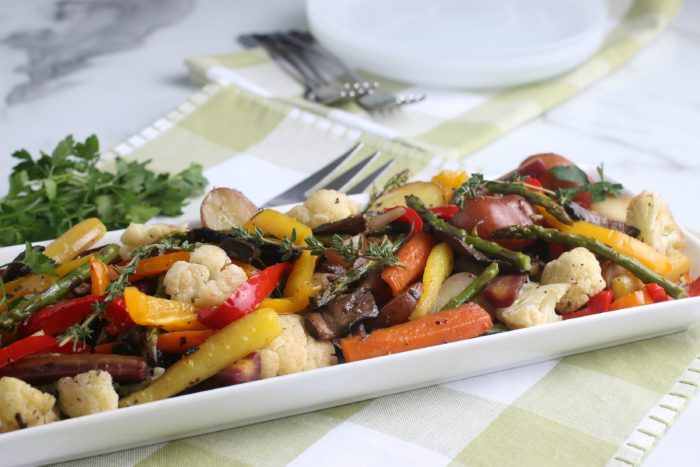 Well, Easter is almost here and while I know we're all quarantined right now, we can still celebrate with our families! Allergy friendly oven roasted veggies are a perfect side dish and one your family will love!
Plus, it's completely customizable, use whatever veggies you like (or can find right now). And, customize it according to your allergy needs as well.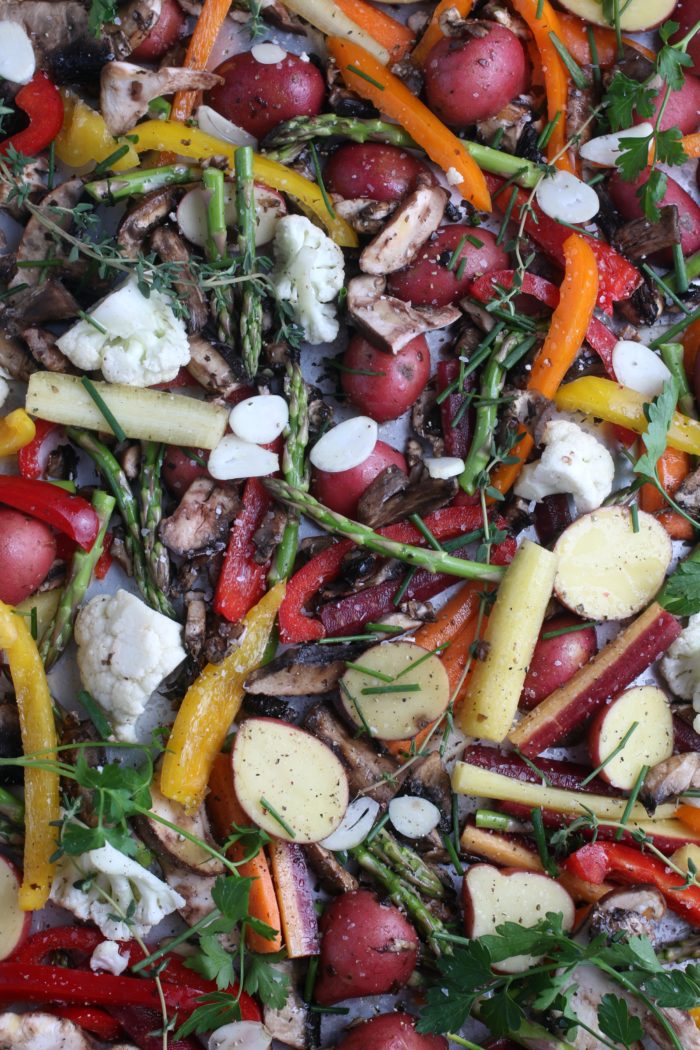 Easter is a celebration of New Life and hopefully, we can take this Easter and celebrate the New Life given to us through Christ and also the life we have and the time we have with one another.
This has been a sobering season to say the least but we are not without hope and that is what Easter reminds us of…hope.
I hope you enjoy this easy and super delicious recipe. Happy Easter!
Oven Roasted Veggies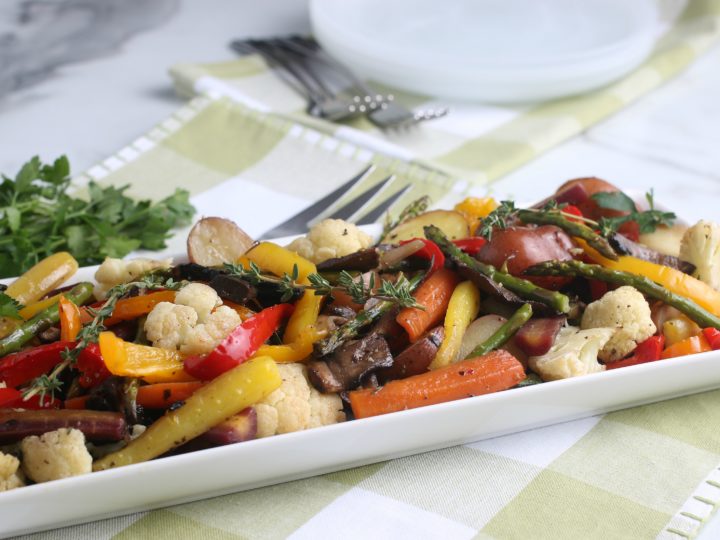 Yield:

Serves 4-6
Allergy Friendly Oven Roasted Veggies
Oven roasted veggies are the perfect side dish for your Easter celebration with the family!
Ingredients
2-3 tablespoons olive oil
Garlic salt and pepper to taste
1 bunch asparagus, cleaned and cut
1 bunch (about 8-10) carrots, cleaned and cut
1 pound small red potatoes, washed and cut in half
½ head cauliflower, cut into florets
1 package (8 oz) mushrooms, cleaned and sliced
1 ½ bell peppers - green, red, yellow, orange or a combination, cleaned and sliced
4 cloves garlic, sliced thinly
3-4 sprigs fresh thyme
3-4 sprigs fresh parsley
3 tablespoons fresh chives, chopped
Salt and Pepper to taste
Instructions
Preheat the oven to 400 F.
Clean and cut vegetables
Spread vegetables in a single layer on the baking sheet.
Drizzle with olive oil
Add herbs, sliced garlic, salt and pepper
Bake for 30-40 minutes or until all vegetables are tender. Stir gently after about 20 minutes.
Remove from the oven and allow to cool a bit before serving.
Notes
You don't have to use all the veggies listed. You may pick and choose, as well swap in some of your favorites.