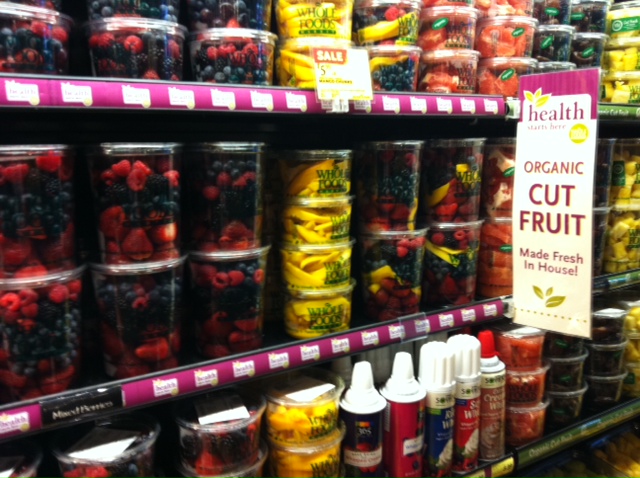 I love Whole Foods. Really, I think I might be addicted. In saying that, as I was walking through the produce aisles, I noticed ready-to-eat prepared fruit. Wow, these look good. I had both of my boys with me at the time and I picked up one of the containers for them thinking it would be an easy and healthy snack.
As I picked up that container, I was struck by that sickening feeling I seem to always get whenever I try to feed my son something out of the norm. That feeling stopped me dead in my tracks. Suddenly I started wondering about cross-contamination. I wondered if they cleaned the knives or if the counter was free of other food residue. Ah, the questions that plague us.
Those questions made me put the fruit back. Then, a few aisles over, I grabbed a bag of Enjoy Life Chocolate and gave that to them instead.
It wasn't until I got into the car that it dawned on me that I had just put back fruit to give my kid chocolate instead. Life is certainly different when food allergies are involved. It might not have been the healthiest choice but I was opting for safety.
The choices we make sometimes…
PS. I have no knowledge about the cross contamination (or if there is any at all) with this fruit. I was only mentioning it for the point of telling the story. Check your containers at your local store before you buy.