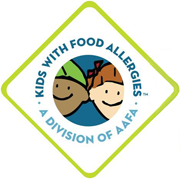 I was at a complete loss when my son was diagnosed with life threatening food allergies. Our doctor at the time gave no advice whatsoever which means everything I learned, I learned via google. All of my searches eventually led me to what I believe is the best group of support on the planet when it comes to food allergies.
If you have a child with food allergies, I would encourage you to visit KidsWithFoodAllergies.org. It is an amazing organization offering up support, ideas, recipes and so much more. In fact, it gave me hope. I had no idea what we were going to do until I found that site and all of the sudden I had a game plan and hope for the future.
Life threatening food allergies can be life altering and if you're looking for help, please visit KidsWithFoodAllergies.org. I did a money saving webinar not too long ago for them, in fact, if you search you'll find it.
Enjoy.